Zeno of Cyprus, Epicurus of Samos, Plato of Athens

The School of Life
Retail Range II

The challenge with the design is to make the product concept and content immediately understandable, visually interesting in it's own right and still sit alongside the rest of the range.

TSOL generate great content and product ideas – the graphics are only one part of what is very much a team effort.

New products include Utopia Candles with all-over illustration and Philosophical Honey and Psychology of Colour both with bold geometric boxes.



Powered by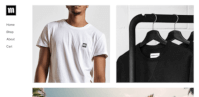 Create your own unique website with customizable templates.